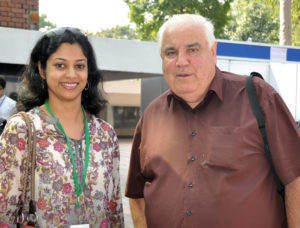 I have interviewed many notable national and international legends from the architectural and building industry over the years. It is always interesting preparing for the interviews, researching on the interviewee, knowing their thoughts and sharing ideas with them.
William J Curtis, the award-winning historian, artist, photographer, and architectural critic, has had a very special connection with Chandigarh, India and Le Corbusier. His books on modern architecture served as our textbooks during our BArch days. He has been the role model for architectural writers since decades. He was scheduled to be a part of the international symposium organised as a part of Le Corbusier's 50th death anniversary in Chandigarh in October 2015, and I was going to be interviewing him for an Indian architectural magazine. The thought of meeting him in person was exciting as well as causing a certain kind of anxiety in me. It was, but the first time, when I felt extremely nervous anticipating what would happen in the interview.
The interview that was scheduled for an hour spilled comfortably over two hours and till today remains one of the most wonderful interviews that I have ever done, one that has given me immense happiness. To hear Prof. Curtis' forthcoming views about architecture, Chandigarh and India, the ease and the candour with which he spoke about everything and to further hear him speak at the symposium, was wonderful.
Though an abridged version of the interview was published in the Feb 2016 issue of Design Detail, it would be unfair on my part to not share the complete interview. Here I reproduce the conversation that I had with Prof. Curtis.
Apurva Bose Dutta: How does it feel to be back in India and especially Chandigarh, a place that can be called your second home, considering you have been coming back here for the past 35 years?
William Curtis: My association with Chandigarh is very personal. I first came to India in 1980, was captivated by it and that visit changed my life. I was returning from Australia and Europe and spent around two-and-a-half weeks here. I spent a lot of time visiting the tombs and monuments in Delhi, including the Qutub Minar and Fatehpur Sikri and was overwhelmed by them.
My interest in modern architecture goes back a long way. Prior to coming to India, I had written a great deal about Le Corbusier. In fact, I was teaching at the Carpenter Centre at Harvard, which happened to be Le Corbusier's only building in North America.  My only point of contact in Chandigarh in 1980 was the late architect Aditya Prakash, the principal of Chandigarh College of Architecture. He helped me in my visits to the Capitol Complex and gave me a couple of small chits which were my 'passes' to enter Le Corbusier's buildings. Ironically, today it needs at least three weeks of security checks to visit the Capitol Complex. I had a great time wandering around in the complex, climbing over the roof of the Parliament building and going wherever I wanted to. I was overwhelmed by the power of the Assembly Building, and felt it to be one of the greatest monuments of modern architecture built in any period.
I met Aditya at his bungalow later in the evening, where we sat on the terrace with some beautiful peacocks visible in the back lawns. Aditya told me, "I am so relieved. I thought you would be a very formal American academician. But you are such a relaxed person".  I replied, " I am not from America."
My wife and I came back to India in 1983, and we travelled to the deepest of India to places like Sanchi, Aihole and Pattadakal, in search of the roots of Indian sacred architecture and the earliest temple forms. Those were tougher conditions, and I remember staying in guest lodges and getting amused by the mosquitoes that would start visiting us before sunset.  We also visited Chandigarh again, where I was introduced to the late Mr P L Verma, the chief engineer for the Chandigarh project, and we got along famously. Verma told me in depth about his dialogues with Le Corbusier, Le Corbusier's thoughts about India, his reaction to the landscape and making monuments, his interest in villages, in Hinduism and the Indian past. He told me how Le Corbusier had explained to him once that the High Court in Chandigarh was all about 'the strength, the shelter and the majesty of the law'.
My association with Chandigarh is not academic—it is very personal; I have a fascination for it. I am so much more comfortable here now than I was in my earlier visits. I think Nehru's Chandigarh was a post-colonial vision. It was Le Corbusier's utopia and he wanted Chandigarh as a completely romantic city that would free India of problems of the 'machine-age'. It is a jump into modernity but in a much more harmonious way than in the West, where it is a big delusion. Chandigarh is a local place, but Nehru's agenda was to make it a national place, and Le Corbusier picked it up from there. He created his monuments almost as a foundation document for a new republic. Chandigarh was a dream and The Open Hand was a lot about that. The irony is that this dream could have materialised anywhere, but it is amazing how all these people from different parts of the world came together here to build it.  Chandigarh's plan is not just a grid with the Capitol at one end. There is a lot of thought process, ideas and philosophy that have gone into its making—thoughts about nature, what it means to build against the Himalayas, the whole concept of the green city, the axis etc. There were these and many concepts that came from Le Corbusier's background and his interpretation of monumental urbanism.
Chandigarh was created out of catastrophe, the Partition. It was like setting new hope for people and refugees whose lives had been destroyed in the Partition. While being a representation of the senate, judiciary and separation of power, the Capitol Complex was a monument to value the secular, republic parliamentary system. Le Corbusier gave it all a form and a framework. The Secretariat was initially planned as a tower, but was considered inappropriate to be placed on the site of the Himalayas, hence it was made into a long object. It took a long time to build all these monuments. During those days since there was a Governor in power, so a Governor's palace was placed at the top of the plan. Due to unknown reasons, it was never built and that leaves a hole in the plan and gives birth to a kind of debate. With time, Chandigarh has witnessed changes. It has been agreeable to share perceptions of people from all over the world about it, but there are questions in one's mind about the city and especially the Capitol—about its future…do you leave it or do you expand it?
Coming back to my connect with Le Corbusier, I had earlier done a specialised book on the Carpenter Centre where I explored his design process, philosophy and ideas. I was teaching history of architecture at Harvard, and I put on a show at the Carpenter Centre in 1981 called 'Fragments of invention: The sketchbooks of Le Corbusier'. This included his Indian sketch books which reveal his intentions for Chandigarh. I brought this show to Ahmadabad in 1984 at the Hutheesing Centre.
Subsequently it came to Chandigarh, post which my visits to the city became more regular. I would come here to enjoy the place—the museum had fabulous sculpture, and I enjoyed spending time with Verma and occasionally delivering talks at the Chandigarh College of Architecture. Vikram Aditya Prakash, Aditya's son was 17 then, and a shy boy, who along with some young students in the school wanted to have a discussion on architecture with me. I remember the discussion we had at the centre of the Capitol, and they appointed me the president of their students' society, scribbling the appointment letter on a small paper. Those were wonderful memories!
In 1983, I met B. V. Doshi who was absolutely in the centre of investigation between Le Corbusier and the re-reading of Indian tradition, while exploring the basic principles of architecture. That in fact, became the germ of the book that I did on him in 1986-7, Balkrishna Doshi: An Architecture for India.
During that period, I also worked a lot on monumentality in general, and amongst other things, wrote on Louis Kahn, especially his building of the State Assembly in Dhaka that fascinated me. As a matter of fact, even before my first visit to India, I had written on it and on what it meant to make monuments in modernity.
Later, I also wrote an introduction to a French monograph on the work of Raj Rewal. That generation fascinated me; they learnt from Le Corbusier, but also reacted against him. I came back again in 1999 to Chandigarh for the splendid International Congress 'Chandigarh: Fifty years of the idea'. Late K. R. Narayanan, the President of the country delivered a speech at the conference. In my mind, I have never in my life heard such an intelligent speech by a politician on the importance of architecture and urbanism in a society. All these speeches were compiled into a book published on Chandigarh's 50 years.
During my last visit to India in 2014, my piece of agenda was to travel to Orissa—so I went to Puri, Bhubaneswar, and Konark. Bhubaneswar is a very important place for modern history and I found its town planning very interesting. It has been done by a German architect Otto Koenigsberge, who was invited for the same by the Maharaja of Mysore in the 1940s. During that visit to India I was also given permission to re-photograph the buildings in the Capitol.
Apurva Bose Dutta: On your previous visit to Chandigarh, you highlighted the 'looming threat of destruction of Chandigarh's architectural heritage', and urged for immediate restoration measures. Please share your thoughts on the same.
William Curtis: It is not just about Chandigarh or Le Corbusier. It is also about the importance of modern architectural masterpieces in India in general and their contribution to national patrimony. In 2014 I came to India after a gap of 15 years. I visited Ahmadabad, one of the great cities of modern architecture, which had however now become a capitalist economic town where developers are on the rampage. There were conflicts between the community which were exaggerated. I had done my book on Doshi residing majorly in that city, and I liked it with its rural settings on its outskirts. I was quite disturbed when I went to the Le Corbusier buildings there. The Sarabhai House had an empty feeling. Some years ago, people had also wanted to pull down the Mill Owner's building to build a tower there. It was then that I asserted my views about Indian heritage laws that need to be redefined, and my thoughts were published in some leading newspapers and architectural magazines in India and Britain.
I wonder, where is the protection of these buildings? The real problem I believe, is the real estate and land values. When I questioned the Mill Owners, I was told that they are fighting for it and are in discussion with UNESCO—in reality, all they have is just a proclamation! Here in India, a building is surprisingly given the status of 'heritage' only if it 100 years old.
Even Kahn's buildings such as the Indian Institute of Management in Ahmadabad are in a totally neglected state! I did give an interview about it with the local newspapers there, but they kept on deferring it since it was election time. It is very sad to see such major works being almost abandoned or even destroyed. Presently, there is a very real risk that Raj Rewal's Hall of Nations in New Delhi will be axed. This is tragic, in fact scandalous. Major works like this need to be protected, restored and put to new uses. I insist upon the need to change the heritage laws in India so that they apply to buildings less than one hundred years old, such as the masterpieces of modern architecture! Le Corbusier's works are the Taj Mahals of the future and are essential parts of the nation's history and patrimony.
Apurva Bose Dutta: Congratulations on the recent exhibition at the Alhambra, which also brings forth your passion or painting, photography and drawing. How do you connect these different creative disciplines and how do they enhance your love for architecture?
William Curtis: The exhibition is called 'Abstraction and Light' and was installed in the chapel of the Palace of Carlos V in the Alhambra until the end of November 2015. The exhibition and its accompanying catalogue focus upon the abstraction of light, shadow, water and space through paintings, drawings and photographs. They are about a way of seeing; they are about a vision of the world.  There is a section devoted to light as a universal material of architecture, and another one devoted to an evocation of atmospheres of the Alhambra. Light is transcendental in architecture and is used in all mediums—paintings, water, nature and landscape. I have noticed that  unfortunately the schools of architecture very rarely talk about light in their reviews.
The exhibition is a collection of pictures taken by me over the past 30 years. It contains pictures of various places of historical importance like those of Fatehpur Sikri, Badami, Pune, Bijapur, Solapur, and even pictures of excavations in Alhambra. There are essays including an interesting one on gardens, sketches that are displayed on tables with touch screens (including travel sketches of Latin America and country temples of 1980s) and notebooks including a few Indian notebooks. In one of the dark rooms, there is a projection of images that have been captured by me and they are complimented with some stunning technological effects of sound and light.
Amongst the pictures, there is one of a garden that I designed in France over the last 30 years and one that shows me as a three-year-old in a garden with a pool that has steps in concrete. When I showed this picture to some of my friends in France, they made me realise that concrete has been a constant part of my life, which is probably true. Such images keep on coming back to me.
All these mediums for me are connected through the mind. The common feature in all these disciplines that I pursue is abstraction and its power to distil content and even reveal invisible forces in nature. I call my paintings 'Mental Landscapes'.  I started painting when I was just 14 but became serious about it only in the 1990s. Even my photographs rely heavily upon abstraction.
My father was a self-made engineer who used to work with concrete and work on dams. I was just four when he died, but I used to go every Saturday to his office where he was surrounded by drawings of bridges. Just before he died, he had returned from a site, probably an island. A few years back I discovered a picture of that site. Surprisingly, it looks just like Chandigarh! There are things which go into one's mind when one is young, and with time one keeps on discovering them. There is also something called resonance which makes one think deeper on why some buildings really knock you out and why some buildings are so powerful.
Concrete was something that I was surrounded by as a child, even in the cantilevered steps in the garden of our home. You can say that I studied Le Corbusier and was inspired a lot by his implementation of forms, spaces, landscape, dialogues with sky and dynamic sculptures, but I have always been fascinated by buildings and underneath there are many personal experiences, and I think, subconsciously I was seeking these. My engagement with architecture is very direct, very visceral. The building is the primary document to me. I do read what everyone says about it, but my opinions about the building are what I formulate when I go and experience it first-hand. This feeling of a direct experience of architecture is essential to my way of operating.
Apurva Bose Dutta: Modern Architecture since 1900 is regarded as one of the classics on modern architecture. What were the pertinent observations which drove you to write it? You have recently also come up with the new edition of your book Le Corbusier: Ideas and Forms. Please tell us something about it.
William Curtis: There have been three revised editions of Modern Architecture. The first edition was formulated in the late 1970s and was published in 1982. During that time, I was teaching a general course on history of architecture at Harvard. One probably does that kind of a book because the existing literature in some way is unsatisfactory, and one is interested in putting across one's own views. I guess, the book did what a lot of other books were not doing. Besides extending its geographical boundaries to India, Mexico etc., it especially revealed how the modern masters were deeply related to the past.
I did the second edition sitting at Doshi's Sangath in 1987, and it featured the recent works in India, Mexico and Japan. The third edition that was published in 1996 went much further in charting the course of the developing world and touched upon issues on technology and post colonialism. I was interested in mapping the complexity of a dynamic modern architectural tradition and its dissemination around the world. My thoughts in the book were all nearly based on visiting buildings. However, merely 'seeing' buildings doesn't give you the narrative, one must have ideas too. The book contained a lot of literary activity—a lot of extensive reading, formulating and writing history. One needs to have a clear and intellectual thinking for the same. Whenever we read those books, I feel that we are not reading only about modern architecture or Le Corbusier, but in fact, we are reading about architecture.
Keeping in mind the international development from the mid-1990s, I am planning a fourth edition of this series.
The second edition of the book on Le Corbusier is the result of a total revision and redesign of the earlier edition. There are five new chapters and over 500 illustrations. The process of rewriting a book is very painful. In case of the second edition of the book on Le Corbusier, the publisher changed hands, the new management wanted to invest more and they wanted to do a very 'beautiful book'. It is a totally revised and expanded edition. There are a lot of drawings scaled well to be readable. With the scan quality available today, the drawings from the Le Corbusier Foundation look incredible. The publishers even suggested putting a tracing paper before each drawing page to enhance the connect of the reader with the book.  The book also contains a lengthy bibliographical note at the end. While two entire chapters are devoted to Le Corbusier's works in India, the last four chapters are devoted to his basic principles of architecture. Then there are two chapters on India, a country that has a growing economy.
As an author, I am very active, and I take interest in getting out my books and promoting them. That is quite unlike few authors who would probably leave it to the press and media to promote it.
Apurva Bose Dutta: There are a lot of discussions taking place about Indian cities including the Smart India initiative, the needs of community, deliberations on social causes and community participation. In a scenario as this which is governed by laws and segregation of disciplines, what in your opinion should be the precise role of an architect?
William Curtis: I go to Delhi from here for a function on the so-called 'Smart Cities'. The title that I have presently suggested for my talk is 'Smart Cities. Stupid Cities. Wise Cities'. Rome was not built in a day and there is a risk in all this smart talk, of reducing cities to computer apps and financial calculations for big-time international investors exploiting land values.
I have seen Indian cities grappling with several problems such as those of poverty, transport, pollution, infrastructure, etc. There exist big questions about their planning, about what would an urban form mean today, and if there can exist a kind of order for everyone to follow.
In my opinion, the first step should be to invent a cheap electric scooter, a metro that you can plug in and plug out. Unfortunately, today in a crash to consumerism in India, one would prefer a car. The old problem of the city and rural areas also needs to be re-examined. The city needs nature and agriculture. The countryside needs urban energy and know-how. How does one achieve a better balance? Maybe, by reinventing the concept of the linear city developed as a strip along major transport lines; or maybe, by reinventing the Garden City in contemporary terms.
The city is not a community. Somebody has to decide where a building has to be. You can listen to people and can integrate their ideas, but the questions of urban form, urban space, public space and the order of the city have to be decided by someone. People might say what they want today, but the city is not only about today, it is also about yesterday and what it will be tomorrow. That is where architects and urban planners have to step in.
A city is not just a collection of economic functions or social housing; it is also a collection of public spaces and monuments. A city can also be an idea; the way Chandigarh was an idea. Of course, it came about in a totally different context. There are still relevant lessons to learn from it.
A city is a long-term operation and is there to benefit people. It needs a certain kind of courage to lay down plans. It is always tricky because there are issues of power and money; today there is also huge real estate pressure. There are crucial questions, and if we don't do anything, we will have total incoherence all over the place. Neither the city nor the country will benefit from it!
Is any kind of equilibrium possible in India today with the explosion of population and the chaos of laissez-faire capitalist development? In my opinion, the time is right to evolve new models which address these conflicting demands.
Apurva Bose Dutta: You have mentioned in one of your written pieces that 'we should take architectural education back to the buildings'. Considering architectural education (or the lack of it) has been under much scrutiny, what would your thoughts be? You have also put forward the need for a basic educational manual in all secondary schools in India that introduces fundamentals of architecture of the Indian sub-continent. Please elaborate on this.
William Curtis: I was at the Visual Arts Centre at Rohtak yesterday with Raj Rewal where I was asked to say a few words to the students. This is what I told the students there.
In architecture, the first thing is to learn to observe. It is to learn to see what you see, and not rely only on your interpretation of images or impressions. Learning to see and learning to analyse what we see is step one to me. An architect's job is to make spaces to serve people and make them feel better. One needs to learn to internalise these spaces.
Capture what you see in the form of drawings and sketches. The coordination between the hand, mind and eye is very important, more so today when everything is becoming digital. A computer has its pros, but it can't replace this primary relationship of doing by looking, seeing, drawing and learning to conceptualise by hand.
When you see things, you don't only look at them, but you say why. You question the intention and then historically study it to understand why it is extraordinary.
Architecture schools teach a lot of disciplines—sociology, construction, structures etc., but it all comes as second-hand knowledge, since you don't really have exclusive experts for the subjects. However, at the core of the curriculum there has to be teaching of doing projects and learning to think architecture in terms of spaces, images, ideas and knowing how to put it down and learning to draw and make models. Raj and I often talk about history—he is very inspired by history of architecture and he transforms it. In fact, I was joking at the Rohtak school that India is lucky that it has got the last Mughal architect here! India has incredible buildings—however architecture is universal and you can learn it from everywhere; there are no national boundaries to it!
I also sense a danger of all architecture schools wanting to be in touch with 'contemporary' architecture. 'Contemporary' is itself a very fleeting term—when you have started understanding the present 'contemporary', its moved on to another 'contemporary'. One needs to understand the basics of architecture by studying key works in the history of architecture. I occasionally teach and we always have these case study trips, where students go, experience, study and analyse buildings.
When a school turns into a fashion shop where students are only trying to see the latest thing on the web, I don't consider that sensible. One needs to train correctly. While I was teaching at Harvard, we used to have very intensive site visits. During the first week, there would be two lectures in the morning followed by a visit to the project in the afternoon, where we would spend around three hours studying the project and debating what it was. The second week we would try and understand the program, the site, whether it made sense, and what worked. We would learning to design by looking.
I believe the right side of the brain is very underdeveloped in our education system, so my notion is to do something about it. My basic point is, if you go to a school in the modern society, you learn mathematics, writing, civics, history, geography etc., but what is underdeveloped in most cases is learning through the eyes. In primary schools that is central when kids are asked to move through colours and textures, but suddenly it stops. This play needs to go all the way through. Everyone is reacting to space from day one, everybody has a sense of space and everyone is affected by buildings. But why don't they stop and think what it is about?
One can even teach people basics of history of countries through buildings. I happened to be at the National Art Museum in Delhi and there were around 20 of these secondary school teachers who were being briefed about sculptures. I asked them if they do it for buildings too and they said, " No, we do it for art only." Buildings are important and people need a vocabulary. Words like 'modern', 'concrete' etc. carry a lot of weight age. It is important for people to be informed because it makes good clients. If you want good architecture, we also want good clients who can formulate what they want.
Years ago, Doshi and I did speak about bringing out a very inexpensive introductory manual on these terms for the vast Indian public and for schools. Unfortunately, it never materialised.
Apurva Bose Dutta: You have travelled the world and studied the different identities of modern architecture. What is your opinion of the Indian identity in world architecture?
William Curtis: The idea of identity is very nebulous and tricky. Identity is safe as long as it is formulated in a secular democracy. But it is problematic when framed in terms of any particular religious group. The best Indian works still distil features of the past and reinstate them in modern terms, but there are no recipes. India has many different geographical regions which would require different design responses in terms of climate, culture, landscape, etc. Also, there are important lessons to learn from earlier generations of modern Indian architects. You do not copy the past, you transform it.
Doshi and I talked about 'an identity' in our times; his generation would often talk about it. In the '60s he was of the view that we wouldn't copy from anywhere, but we could learn from everywhere. He would read the history of the country for which he would be designing. He and his generation did an incredible organisation of buildings.
In a fundamentalist economy, identity is everything. Since there are so many Gods, everyone thinks they have a right to go and destroy, which is very dangerous. Identity is only right as long as people embrace each other. In history, there is a notion of nation/state, and it is that particular notion in identity in a nation which is dangerous.
Without being too rough about it, I noticed some Christian churches in Delhi which were very neglected and some Muslim buildings and mosques in Ahmadabad which were maintained very well. Unfortunately, I don't approve of this divide. I remember going back to Ahmadabad in 1999, and hearing from Doshi how the Hussain-Doshi Gufa was smashed up and how many students were even attacked. The attackers simply said that the Gufa was not India!
The problem with identity occurs when it shifts into the political or regional sphere and becomes highly inflammatory. But if you keep it within certain boundaries, it is important to try and make it a part of history. Though there is no magic formula to do it, but it is important to do so.
India has many different geographical regions which have their own climatic limitations—designing for the Andamans is not the same as designing for Punjab or Gujarat. Presently, India is wobbly. Underneath, everything is complicated, and it is always simmering. When you take the lid off, there are many tragedies and disruptions attached to it. Everyone is involved in identity politics.
India is a strong republic. Just imagine what would have happened if it would have been a weak republic! India's republicanism is not only about temples. It is not only about architecture but the politics of ideologies of states too!
Apurva Bose Dutta: One of India's advantages is the fact that majority of its population is younger than its counterpart countries. You mention in one of your writings that there is 'a younger generation emerging which is full of talent and seeking opportunities to build'. How do you think this younger generation, in particular when we talk about designing, is going to bring a positive change in India's skyline?
William Curtis: That is for the young to decide! On my last visit to India, I was brought into Mumbai for the 361 degrees' conference where I engaged with a lot of youngsters too, and I thoroughly enjoyed it. I then went to Ahmadabad to the Varkey Memorial Congress organised by the students at the CEPT School of Architecture. I saw some remarkable work by people in their early to mid-20s who came from all over the sub-continent including India, Bangladesh and Sri Lanka. Some of this work was extremely competent and very inventive, and by the way, some of the best work was by women architects. Indian society is changing rapidly and it is up to this emerging generation to crystallise the situation in architectural terms. I am a great believer in youth, and I wish the youth well in their quest for an authentic architecture.
Apurva Bose Dutta: You have associated with Indian architecture through various architects, including Anant Raje, Le Corbusier, Louis Kahn, Balkrishna Doshi and Raj Rewal. What are your new associations with Indian architecture and architects that we can look forward to in the future?
William Curtis: You forgot my passionate interest in the architecture of the past! I am planning expeditions to sites I have never visited before, such as Mandu, Champaner and Vijayanagar. In art, as in architecture, the past is ever-present. If you wish to invent something new, study that which is ancient. A century ago the great philosopher Anand Coomaraswamy put it this way, 'To follow the old wisdom but not despise the new'.
Apurva Bose Dutta: We have seen that the world over, rapid development and globalisation has led to many deliberations, opportunities, challenges and confusions in architecture. Your writings have focussed primarily on twentieth-century architecture. Hypothetically speaking, if you are given a magic wand today to go back to the past to change one fundamental thing in modern architecture that could have led a better liveability today, what would it be?
William Curtis: Wow! Modern Architecture is a lot of ideas, some good, some bad. I think I need three days to think about an answer for that questions!